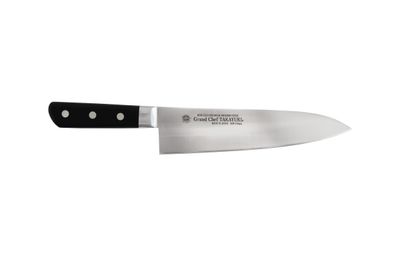 Sakai Takayuki Grand Chef Western Deba
Grand Chef
Sale $399.00 $299.25
or 4 interest free payments of $74.82 with
learn more
Takayuki Grand Chef Series are high grade knives made with the highly regarded Swedish Stainless Steel called Bohler N685 boasting some of the lowest impurities of any stainless steel on the planet.It contains an extremely low amount of phosphorus and sulphur, resulting in a steel that is regarded to be one of the finest in the world.
These knives are made with precision, consistency, and durability and are a favourite with professionals. Bohler Uddeholm N685 Stainless Steel offers exceptional sharpness as well as abrasion and corrosion resistance
Deba knives are thick, stout knives traditionally used in Japan for filleting fish. Some users adapt the edge of these knives to other kitchen tasks such as parting out poultry or for use as a vegetable cleaver. While it looks like a gyuto in profile it is still a heavy and substantial blade almost twice the weight of a similarly sized gyuto.

The handles are made from a highly antibacterial POM resin
Their rust resistance and hygienic handles make these an excellent choice for both professional and home chef environments
Specifications
Model: 10032
HRC: 60-61
Blade length: 210mm
Spine thickness: 3.6mm at heel
Blade edge: 50/50 grind
Overall length: 340mm
Handwash only do not use dishwasher.
Do not cut, hit, or chop frozen products or bones.

SKU: 10032