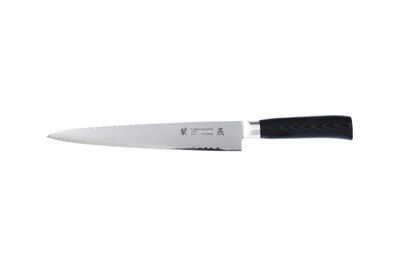 Tamahagane Sujihiki Chef knife 240mm
San Tsubame
Sale $342.68 $257.01
or 4 interest free payments of $64.26 with
learn more
The Japanese symbol 'San' means brilliant and radiant in English and these knives are no exception with their beautiful hammered (tsuchime) matte finish and mirror polished edge.
The VG5 core high carbon molybdenum vanadium steel with 2 layers of SUS410 stainless steel are repeatedly rolled, thinning them from 20mm to a final thickness of 2mm, ensuring all impure materials in the alloy are extracted. During this process, the blade becomes harder and harder reaching a perfect 61 on the Rockwell hardness scale. This technique has been perfected in Japan for over 600 years.
The Sujihiki or slicer is similar to a carving knife but has a long, thin blade used to cut thinner slices of meat, fruits and vegetables. The long blade allows the meat or fish to be cut in one single drawing motion The combination of cutting technique, acute blade angle, and sharp edge result in very little cellular damage in the cut surface
The handles are laminated linen Micarta, beautifully shaped and perfectly weighted and balanced. The Tamahagane San Tsubame knives are hand sharpened giving a razor edge.
Specifications
Model: SNMH-1113
HRC: 61
Overall length: 368mm
Blade length: 240mm
Handle: Brown Micarta
Hand wash only do not use dishwasher
Do not cut, hit, or chop frozen products or bones.
SKU: SNMH-1113